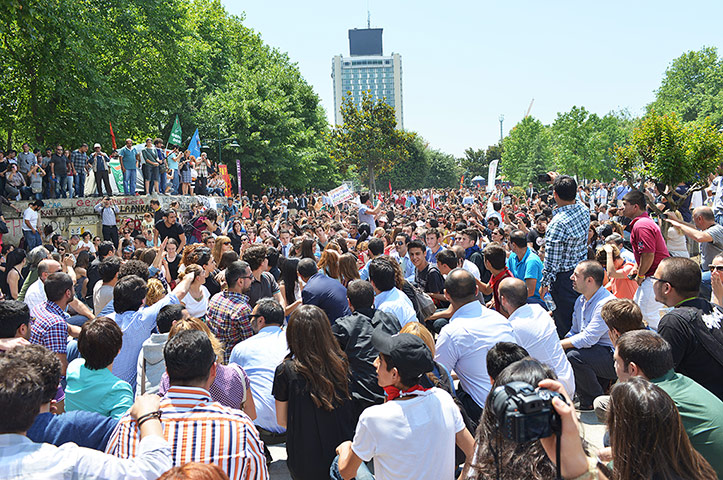 Protesters gather in Gezi Park, Istanbul. Source: The Guardian
Apologies for the long radio silence here ... our industrial campaign for a fair enterprise agreement at the University of Sydney has been soaking up any spare time for luxuries like blogging!
However, I've spent a little time this morning reading about recent events in Istanbul, so figured I could at least share some links.
Plans to redevelop Gezi Park in the centre of the city (including a shopping mall, of course!) have catalysed a significant mobilisation, with mass demonstrations involving hundreds of thousands of people and occupations of the park and nearby Taksim Square, and violent confrontations with police.
As is often the case with such events, the park and plans for its redevelopment have come to stand in for disagreements on wider political and economic issues.
The Guardian has been reporting on events, and you can find several articles and multi-media resources here.
The London Review of Books Blog has also posted a couple of very interesting pieces which dig a little deeper into the wider political and economic context in which these events are taking place - one by Kaya Genç is here and another by Çağlar Keyder is here. The latter especially speaks of the 'Islamist neoliberalism' of Erdoğan's Government in Turkey. This seems to be producing quite particular 'regimes of publicness' (to borrow Staeheli and Mitchell's term), with restrictions on the sale of alcohol, memorialisation of controversial religious figures, and commercialisation all impacting on public space and helping to generate interesting alliances in opposition including religious and ethnic minorities, trade unions, intellectuals, and the secular urban middle classes.
The academic journal Environment and Planning D: Society and Space has also put together a 'virtual issue' on the background of these events in Turkey, with free access to five articles until the end of August.
And there is a fantastic piece reflecting on the events by Timur Hammond and Elizabeth Angell called Is Everywhere Taksim: Public Space and Possible Publics here. This piece offers a very interesting analysis of the kinds of new publics that are in formation in the protests, and their relationship to the wider public sphere and the kinds of publics that have been constructed through the infrastructure projects of the
Erdoğan Government.
The interaction between urban and media/digital space in such events is of particular interest to me at the moment. Apparently in this conflict, police have been using mobile phone jammers to prevent protesters using their devices to coordinate their movements. Turkey's mainstream media has been accused of siding with the government by not covering the events. Nevertheless, social media has once again proved important in circulating information and images of the events in a manner that has contributed to their rapid escalation. In response, the prime minister has apparently branded Twitter 'a menace to society', and some have been arrested in Turkey for spreading false information and incitement to disorder on social media.
The image below is one that has apparently been widely re-circulated through social media - it's an image of Ceyda Sungur, an academic from the town planning department at Istanbul's Technical University, being pepper-sprayed at short range by a police officer. You can read about her and the photo here.
Ceyda Sungur is showered with pepper spray. Source: The Guardian